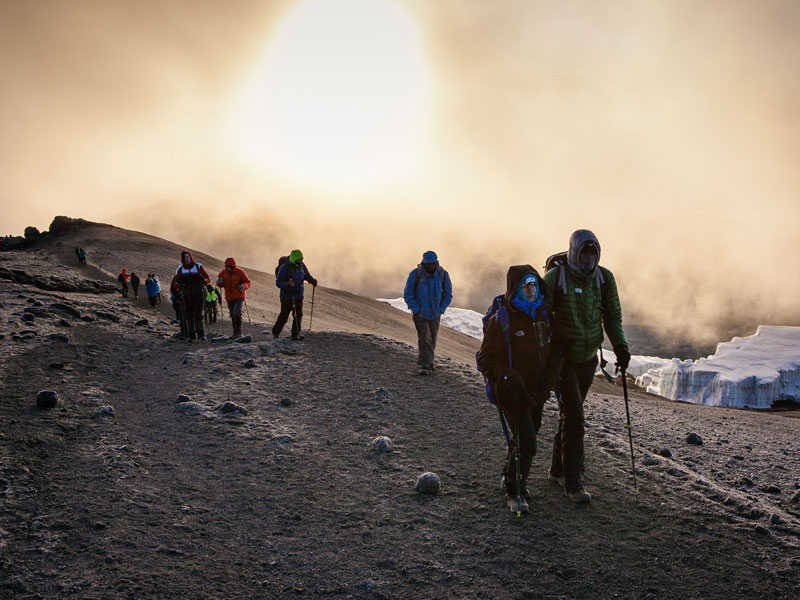 Did you know that Kilimanjaro Altitude Sickness is the most dominant health issue on the mountain makes climbing Mount Kilimanjaro even more difficult? The higher elevations of Mount Kilimanjaro are no joke and are the major cause of altitude-related sickness which are experienced by almost all travelers. About 90% of the trekkers experience mild to severe symptoms of altitude-related sickness. But how does it affect you and hoe to prevent it? Let's find out!
How Does Kilimanjaro Altitude Sickness Affect You On The Mountain?
Kilimanjaro Altitude Sickness affects numerous trekkers who suffer severe symptoms leading towards their descent. On average over 1% of the trekkers require emergency evacuation due to altitude-related sickness. During this period, following the guidelines and advice of your Kilimanjaro Guides is essential. This helps you reduce the chances of severe damage and risks to your health.
Climbing Mount Kilimanjaro is less tough compared to the other seven summits like the Himalayas and you reach a peak in just a week. The main drawback of this is that your body gets less time to acclimatize on the mountain. This is the prime reason why Climbing Mount Kilimanjaro is considered to be an exclusive, tough, and potentially hazardous challenge at the same time. So what should you do to avoid these severe symptoms? We at River stone advise you to climb high and sleep at low altitudes whilst ascending Kilimanjaro.
Kilimanjaro Altitudes Are Divided Into Three Zones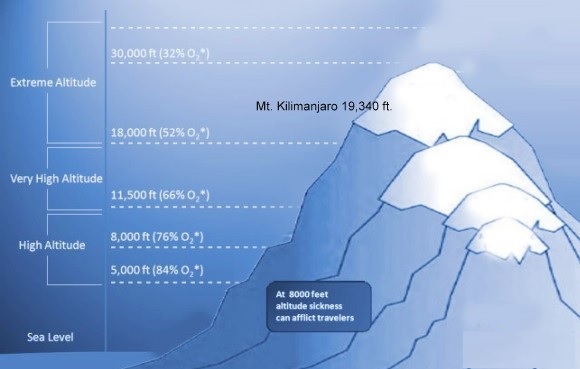 Below are the three zones in which the Kilimanjaro Altitude is divided into:
The High altitude zone: At the height of 2400m to 4200m, this zone covers the majority of all treks on Kilimanjaro. Effects of altitude in terms of workload and stamina have a serious impact on you during this period. Symptoms of sickness such as headaches and nausea are felt to an extreme during this time.
The Very high altitude zone: At an altitude of 4200m to 5400m, this zone covers the night before the summit attempt on all routes. The effects of altitude start to escalate and become more acute. You are constantly advised to walk at snail's pace on the mountain. Adverse symptoms will be experienced by most climbers unless they are taking supplementary oxygen. This altitude level is also where most climbers who are unable to handle this altitude will need to be removed from the mountain.
The Extreme altitude zone: This altitude is experienced above 5400m. Covering much of the summit attempt, with Uhuru Peak at 5895m this is also known as the arctic zone on the mountain. Your body is simply deteriorating, during this time. On the peak it is not recommended to stay for a very long time as here too long without oxygen there are chances you will die. Our Kilimanjaro climb crew carries supplementary oxygen to provide you before you succumb to the adverse effects. Going slow is essential.